I know some of your are planning weddings or helping someone plan weddings. How do I know? Pinterest tells me.
Hopefully you all remember Katherine from her super interview:
here
. Well guess what? She's even more awesome than blogging, book reviewing and recipe writing. She also has shops. One of them is
Keepsakes By Katherine
. As a special occasion boutique she specializes in affordable gifts and accessories. And these days we are all on a budget so getting something beautiful at a great price is just smart.

Hi Katherine! For anyone who may not have seen you other interview please introduce yourself.
Hello, my name is Katherine and I am the artist and designer at Keepsakes By Katherine. I am happily married to the true keeper of my heart. I am a proud grandmother of five beautiful children. I give an endless supply of unconditional love to my family and friends. I blog at Katherines Corner.
Tell us a little about the beautiful pieces at your shop.
Keepsakes By Katherine has been referred to as the brides good luck charm. I believe that every day is a special occasion. I create for your wedding, your home and your style.
How do you feel that your shop, over others, is a benefit to your customers?
Creating for others brings me joy and every order is treated as if it is the most important one. I keep the buyers budget in mind when creating and provide a stress free purchase.
I have been creating and selling things for over 30 years.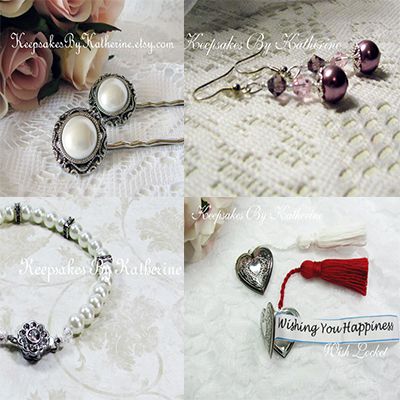 What do you think are your biggest inspirations for your keepsakes?
When I make something for my shop I think of it as if I were creating a gift for a friend.

Happy customers are my greatest inspiration.
Anything else for the readers?
Please use coupon code rainbow for a discount in my shop.

Beautiful items and a discount! I urge you all to check out Keepsakes By Katherine today and find those perfect items for your next special occasion or a gift for someone!